Hyundai to build engine plant in Alabama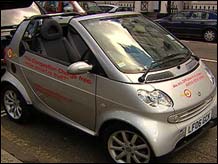 No. 1 Korean automaker's $270 million factory will serve U.S. facilities, create an estimated 520 jobs; mass output slated to start in Sept. '08.
March 13 2007: 7:19 AM EDT
SEOUL (Reuters) -- Hyundai Motor Co., South Korea's top automaker, said Tuesday it plans to invest $270 million to build an engine plant at its U.S. car manufacturing unit in Alabama to serve growing demand in the world's No. 1 auto market.
The engine plant, estimated to create about 520 jobs, will begin mass output from September 2008 and supply engines to the Alabama plant and a Georgia plant being built by its affiliate, Kia Motors Corp., Hyundai said in a statement.
The Alabama facility currently produces Hyundai's Sonata sedan and its Santa Fe sport-utility vehicle.
Hyundai and Kia, which sell about three quarters of their cars abroad, are expanding overseas production to shield themselves from a strong won and frequent labor disputes.
Separately, Hyundai also said it would begin mass production of fuel-efficient environmentally friendly hybrid cars from 2009, with a production target of 300,000 in 2015.
more on this story